Obviously I had planned Startup Weekend to be one single actual weekend, but as you may have noticed, last weekend didn't exactly result in a full product launch. Why? Take a look at this graph: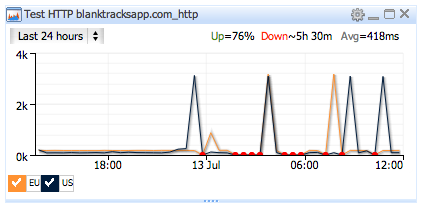 That's the previous 24 hours of monitoring by http://monitor.us/. As you can see there's quite a bit of downtime and sometimes the response times are nearly 4 seconds, up from a low of 40ms. During those times I can't even SSH into the server. There are no log entries that indicate what is happening and some googling makes is seem like a problem with either the network card or the network. I've install sysstat to monitor everything and I've moved the app over to a new instance incase it was a hardware issue. 
If that doesn't work, well, I've probably done something very stupid.